Temporary studio
The former Hema building in Venlo (NL) became a temporary studio from September 2020 to January 2021. The vacant building gave me the opportunity to create large-scale works of art. The transparency of the building became a new challenge. The retail space with traces of the past became the starting point for my visual work. See also VenloVanbinnen, January 20, 2020.


Mail Art Project "Pink Pigeonholing"
Galerie Tuur has placed an international call to participate in the Mail Art Project "Pink Pigeonholing". More than 100 artists from various countries have made work on postcard format, including my woodcuts. The project is part of "Pink Saturday 2019 Venlo-Krefeld" and works to build respect, tolerance and participation for all.



"Pink Pigeonholing", print on wood engraving, 10 x 15 cm
"Pink Pigeonholing", mixed media on wood engraving, 10 x 15 cm
Pimp Your Classroom
Artists from Venlo and the region have pimped the old school building of VSO De Velddijk in Tegelen. De Velddijk is a secondary school for special education. Together with the 12 to 18 year old students, designs and art concepts have been developed and performed for different spaces. I started working with five students, resulting in a girls corner in the auditorium, so that girls have their own place to chill in the school building.


Artist in residence
'On Bivouac'. Residency in the Telpost in Millingen aan de Rijn from 8-18 June 2017. During this period I was working in the Telpost, a temporary studio and a river viewpoint, and in the forest of De Halve Bunder. I was given space for new ideas to deepen my visual artwork and to explore unknown territory motivated by the theme of 'Twisting'. It was part of the project 'Space for Art' in Millingen.


G16
Participation in the national graphic manifestation 'G16' in October 2016, Month of graphics. My artwork was presented in Galerie Tuur with artwork by Arjen Markenstein and Yvonne Rooding.


Land Art
Landart Nederland organizes projects in nature. In cooperation with Marion Lemmen I worked on a natural object in the Ratumse creek.




In May 2016 a publication about my artwork appeared in the digital magazine "Doorgroeien". This magazine was part of the Proof of Mastery taken by floral artist Marion Lemmen.
Children's story book 'Verdwalen in verhalen'
An illustration of the story "And then it was over", by Daniëlle Gerards, author, after an idea by Danique Simons, scholar. A reading and viewing project in collaboration with schools in Venlo and the surrounding area, with a collection of 43 contemporary children's fantasies, which inspired various writers to create 43 stories with illustrations by visual artists, for which Jacques Vriens wrote the foreword. First published in October 2016, publisher Van Spijk-Rekafa publishers BV.


Children's story book 'Lees mijn verhaal en kijk 21 maal'
An illustration of the story 'Expeditie Hendrika H' by Irma Gratzen ,author, after an idea by Donatella Beurskens, scholar. First published in June 2015, publisher Digitalis for Lions Club Venlo and Stichting Akkoord-OBS Harlekijn.


BMC Deurne
A wall object in the practice room of the Biometric Centre Deurne, where the feeling of being human is intensified by the theme 'Skin'. The chosen location in the room is a prominent corner in the space that is centrally located and visible from all sides. The presence of the artwork gives the visitor a subtle sense of identification and closeness in the world of the brain.



'Skin' , 2015 relief, acrylic paint on canvas, 200x30x5 / 200x30x5 cm
Museum de Kantfabriek Horst
The museum, in a former lace factory, shows the development of the textile industry in the Horst region (North Limburg) and organises temporary exhibitions in which textiles are the guiding principle. From December 2014 to June 2015 I was external advisor to the project group for updating exhibition policy for the temporary exhibitions in Museum de Kantfabriek. The new policy plan for temporary exhibitions 2015-2020 was approved by the management in August 2015.


Trefpunktpost 2013
Co-organization of the mail-art-project by German and Dutch artists. Followed by exhibitions in Venlo (NL) and Nettetal (D).
Publication Rheinische Post




BKtel
Completing the meeting rooms, public spaces and management offices with a selection of my art for BKtel in Hückelhoven-Baal and Kornwestheim (D). Annually changing exhibitions, 2004-2017.


Trefpunktpost 2013
Co-organization of the mail-art-project by German and Dutch artists. Followed by exhibitions in Venlo (NL) and Nettetal (D).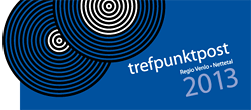 Residences Aachen
Commission to create a series of personal paintings for private residences in Aachen (D), 2008 and 2011.


Residence Sevenum
Diptych of wood engraving and oil paint painting in which relating outside and inside is central, Sevenum (NL), 2012.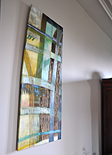 Biometric Centre Deurne
A series of ceiling paintings for the Biometric Centre Deurne (NL), commissioned by K. van der Sande. Objective: creating colour, peace and unity in the therapy room.




untitled, 2006
series of 5 paintings, acrylic on canvas
60 x 60 cm per canvas
Conservatory Venlo
Commissioned by the 'Kunstencentrum Venlo' (NL): a series of ink and watercolour paintings for the conservatory, with the objective to depict establishing a connection between movement in colour, music and dance.




untitled, 2005
middle part detail; ink, watercolour and acrylic on rice paper
total 3 parts: 80 x 800 cm
De Waan, Venray
Een manifestatie over kunst en psychiatrie. Lid van de kunstcommissie voor de selectie van kunstenaars voor de tentoonstelling van het regiopaviljoen op het St Annaterrein, Venray (NL); verantwoordelijk voor de organisatie en uiteindelijke inrichting in en rondom het paviljoen, 2002.